Main article: Avalon
Spoiler warning!
The following part of the article contains plot spoilers.
New lands
Edit
Faeryland
Edit
Main article: Faeryland
Eighth Land
Edit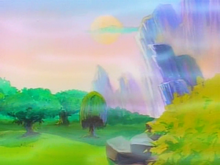 The Eighth Land is a hidden land of very strange magic featured in the second season's "The Wishing Jewel", where it is discovered by Princess Gwenevere and Drake when they go beyond the Border Mists in the Misty Moors. After the Crown Jewel-like titular Wishing Jewel is found and secured, Gwenevere joins the Eighth Land to Avalon.
Other versions
Edit
Prehistoric Avalon
Edit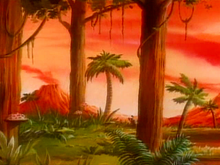 The prehistoric Avalon, or the Jurassic world, is the Avalon of a long-time past - a "Jurassic era land filled with dinos and steaming pools of lava", accessible through the Time Stone portal. Its dangerous Dinosaur Valley is briefly visited by the Jewel Riders in the episodes "Mystery Island" (in which also Lady Kale gets sent and trapped there), and again in "The One Jewel".
Dark Avalon
Edit
If Avalon falls under the rule of Kale, it will be transformed into a dark and cold place full of evil magic. A prophecy in "The Fortune Jewel" also shows like it would in case of Morgana's reign, with Princess Gwenevere turned into a servant girl in the dark Crystal Palace.
Ad blocker interference detected!
Wikia is a free-to-use site that makes money from advertising. We have a modified experience for viewers using ad blockers

Wikia is not accessible if you've made further modifications. Remove the custom ad blocker rule(s) and the page will load as expected.