King Jared is a major character in Princess Gwenevere and the Jewel Riders. He is voiced by Bob Kaliban in English and by Emmanuel Jacomy in French.
King Jared is the benevolent King of Avalon, respected by the people and aims to keep the land in harmony with the power of goodness. Jared is married to Queen Anya and father to Princess Gwenevere, but he has a hard time keeping up with their daughter. He used to be a member of the Pack, paired and bonded with his riding wolf named Goliath.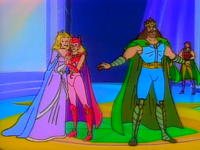 King Jared is the Commander in Chief of New Camelot and the Crystal Palace's resources including the Wolf Pack. Jared is the perfect role model for boys: strong, handsome, easygoing, yet extremely responsible. Very heroic and quick to defend the rights of the weak, he believes in the destiny of the Crystal Palace to spread goodness across the land.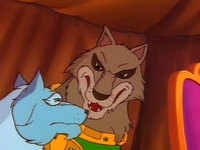 The powerfully built monarch presents a stern appearance, but his frequent smile uncovers his true nature. He has tremendous charisma and believes in the destiny of the Crystal Palace to spread goodness across the land. The King's friend and companion, Goliath, is an awesome brown wolf who commands instant respect from the Pack. Together with Drake's wolf Thunderbolt, Goliath chase after Kale's dweasels in "Fashion Fever".
Appearances
Edit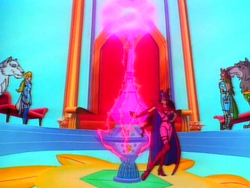 Behind the scenes
Edit
Goliath was planned to be a black wolf at one point during the show's pre-production. Jared and Anya were also supposed to have a younger daughter named
Tara
.
His character later inspired this of Mayor Davies in Avalon: Web of Magic.
See also
Edit
Ad blocker interference detected!
Wikia is a free-to-use site that makes money from advertising. We have a modified experience for viewers using ad blockers

Wikia is not accessible if you've made further modifications. Remove the custom ad blocker rule(s) and the page will load as expected.