The following are the main credits for Princess Gwenevere and the Jewel Riders.
Creator and director: Robert Mandell
Producers
Edit
Executive producers: Allen J. Bohbot, Joseph A. Cohen, Robert Mandell, Ralph J.Sorrentino
Producers: Eleanor Kearney, Winnie Chaffee, Raissa Roque (associate)
Production management
Edit
Production manager: Mieka West
Post-production supervisor: Peter Roos, Craig Seti
Production coordinator: Peter Mosen, Barbara Jean Kearney
Art department
Edit
Art direction: Gregory J. Autore, Billy Zeats
Storyboard artist: Nicholas Filippi, Oliver Thomas, Tom Nesbitt, Glen Lovett, Lance Taylor
Storyboard slugging: Brad Neave, Eduardo Soriano
Storyboard revision: Colleen Holub
Storyboard timer: Ron Crown
Executive story editor: Shelly Shapiro
Writers: Robert Mandell, Christopher Rowley, Robin Young, Katherine Lawrence, James Luceno, Mary Stanton, Laura Munro, Laraine Arkow, Marlowe Weisman, Marianne Meyer
Supervisor: Ken Kushnick
Music and sound
Edit
Music: Louis Fagenson
Music supervisor: Ken Kushnick
Songs producer: Jeff Pescetto
Audio post-production: Peter Roos, Richard Fairbanks, Chad Collins
Recording director: Peter Fernandez
Pre-production sound: Roger Jakubiec, Lynn Gillis, Debbie Warren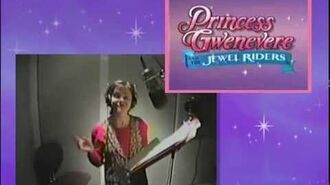 Kerry Butler (Princess Gwenevere/Starla – Season 1)
Jean Louisa Kelly (Princess Gwenevere/Starla – Season 1, Moondance – Season 2)
John Beach (Drake, Archie, Rufus, Civello)
Bob Kaliban (Merlin, Josh, King Jared, Ian, Spike, Travel Trees)
Henry Mandell (Shadowsong, Twig)
Barbara Jean Kearney  (Moondance – Season 2)
Ad blocker interference detected!
Wikia is a free-to-use site that makes money from advertising. We have a modified experience for viewers using ad blockers

Wikia is not accessible if you've made further modifications. Remove the custom ad blocker rule(s) and the page will load as expected.